Our First Japanese Speech Award!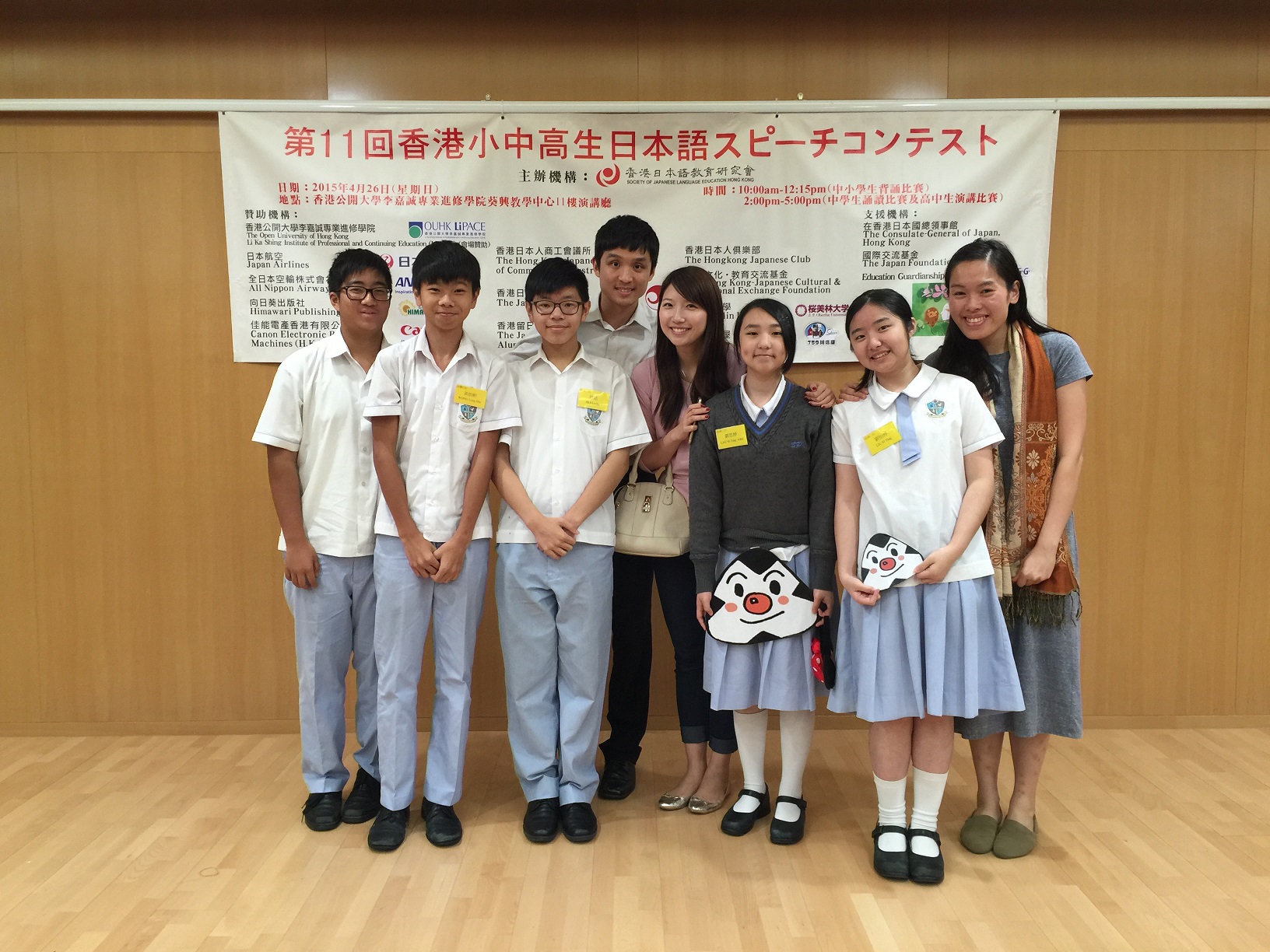 Congratulations to our Japanese Class students of the Language Enhancement Programme 2014/2015 who were awarded the

2nd-runner-up of the Group Story-telling for Junior Secondary Section

in the 11th Hong Kong Primary and Secondary School Students Japanese Speech & Verse Speaking Contest, organized by the Society of Japanese Language Education Hong Kong on Apr 26.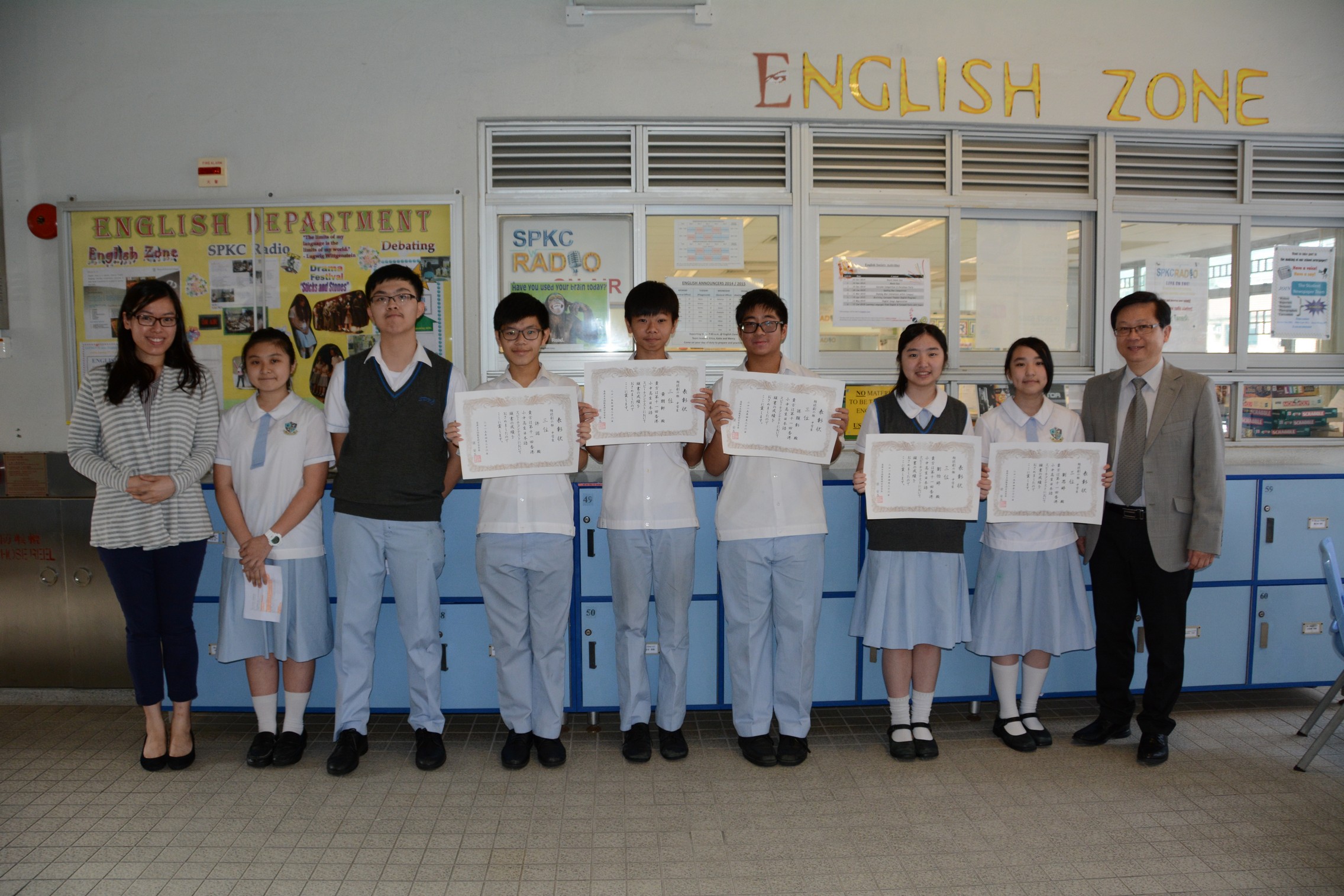 The awardees are

Aiko Lau (1L), Eiko Liu (2J), Hugo Sun (2J), Anson Wong (2G) and Locke Hui (2F)

, who have been studying Japanese from half a year to 1.5 years only. They received the recognitions from Principal, teachers and fellow schoolmates in the morning assembly, bilingually introduced by Chairperson Sam Chen (3P) and Vice-chairperson Stephanie Chui (3L) in both Japanese and Putonghua.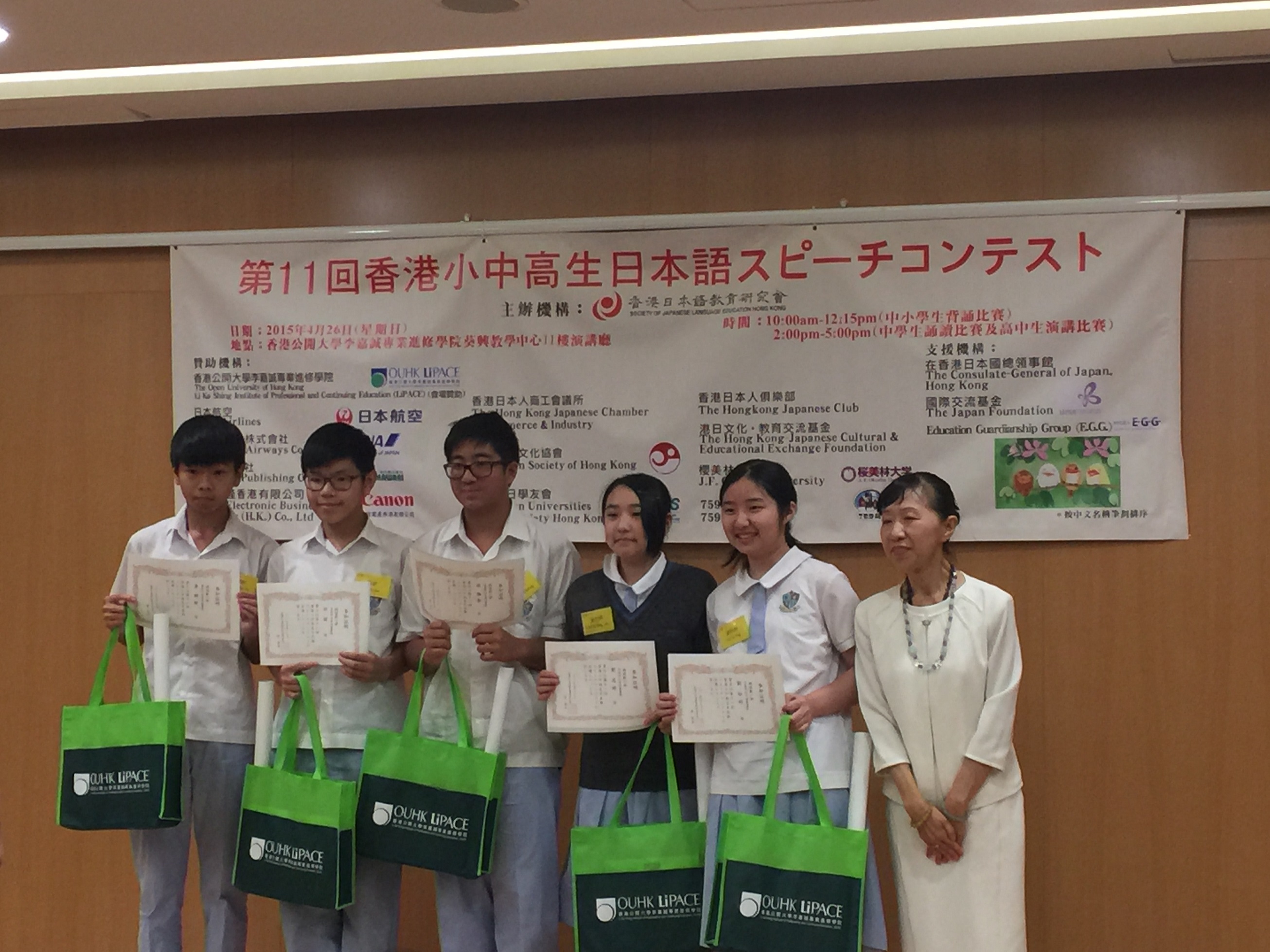 It is a large-scale Hong Kong territory Japanese speech contest for non-native Japanese students. It aims at promoting Japanese language and culture in Hong Kong with 11-year history.

There are 4 events, including 1) Solo Verse (Primary), 2) Solo Verse (Junior Secondary), 3) Group Story-telling (Junior Secondary), and 4) Public-speaking (Senior Secondary)

. This Contest is sponsored by the Consulate-General of Japan in Hong Kong, Japan Airlines (JAL), All Nippon Airways (ANA), The Japan Universities Alumni Society Hong Kong (JUAS), Canon Inc., etc.
SPKC Language Enhancement Programme is developed as a curriculum of other languages so as to promote global awareness particularly in cultural practices and language arts, allow students to consider sitting for internationally recognized language proficiency examinations, and eventually, enhance students' competitiveness in the global market.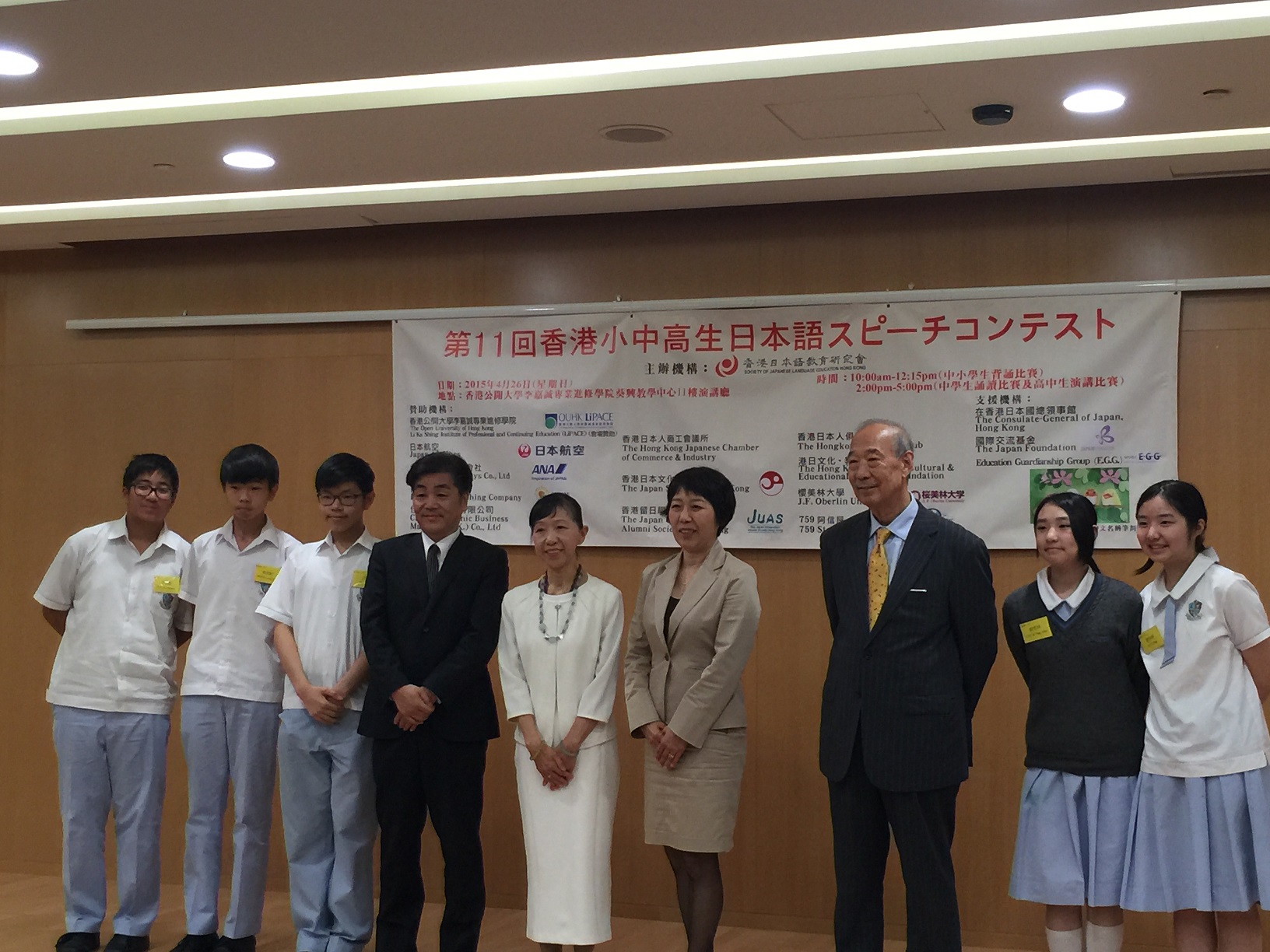 Since the reformation of the Programme 2 years ago, there are 46 students from S1 to S4 currently studying

Japanese and French

in SPKC. Apart from regular lessons and internal assessments, students have various chances to practice the language in outings, school promotions, performances, competitions and summer programmes.
This Japanese speech award is the first fruit of SPKC's education on other languages. We look forward to seeing our students' brighter future in the field of foreign languages!
By Ms. Ripple Chan & Ms. Michelle Ho
Advisors of School Language Enhancement Programme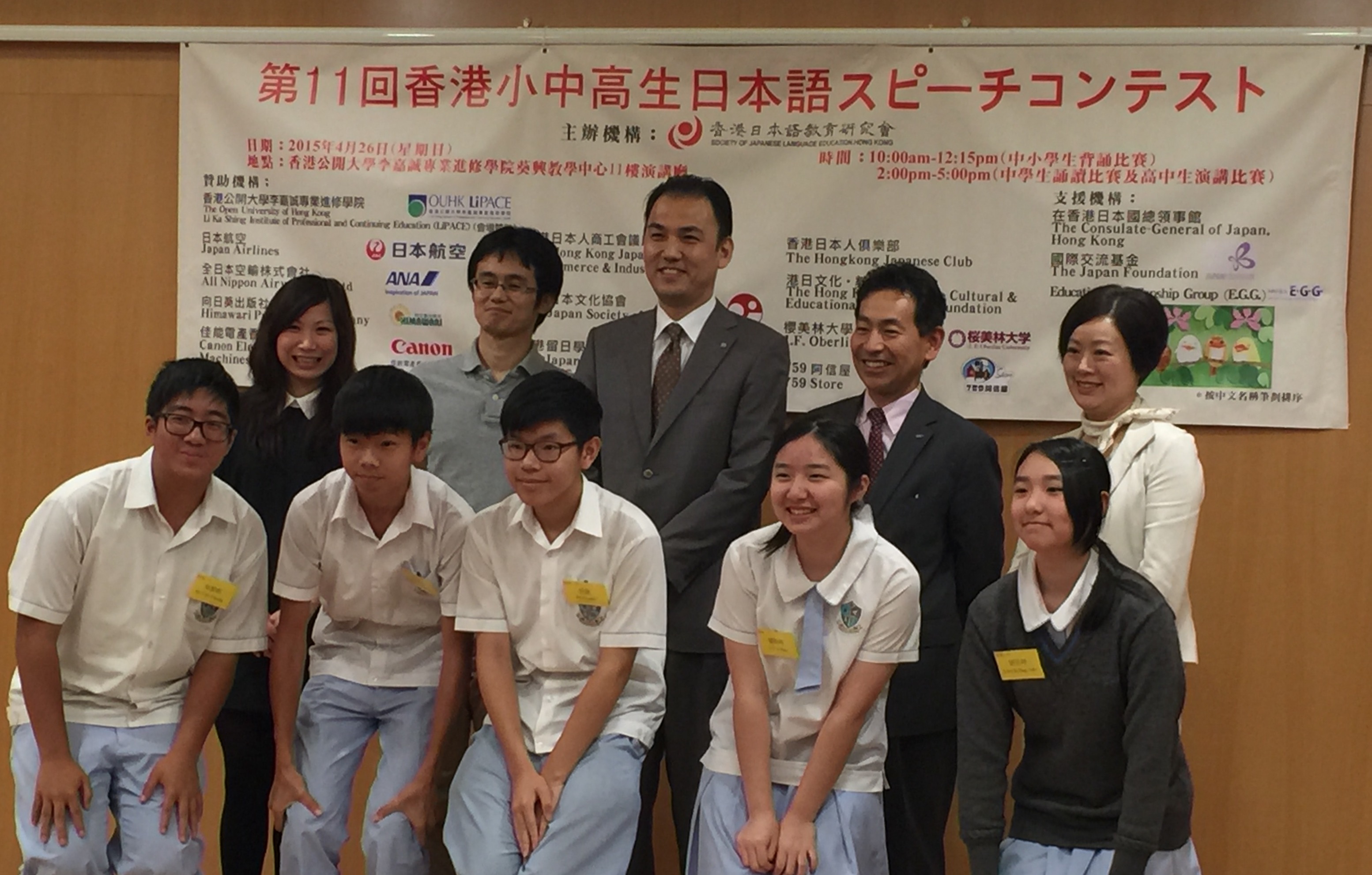 Back