Mini LEWOWA Online Tour at Cha Kwo Ling
Have you ever tried wandering around the old villages in Hong Kong in a 360 degree view?
Over twenty Pooikeinians have joined the mini LEWOWA 2, an online tour about the footage of Hong Kong's Mining in Cha Kwo Ling on 14 May 2021. Guided by the university students from the Chinese University of Hong Kong (CUHK), students visited various local attractions in Cha Kwo Ling using the virtual reality (VR) paper glasses. The places included Wing Wah Store, Tin Hau Temple and Mao Fat Tea Room. During the VR journey, they dug deeper into the living of the locals and felt their human warmth.
The ups and downs of Hong Kong's mining industry were presented to students through the prosperity and adversity of Cha Kwo Ling in this online tour. It fostered students to reflect the trade-off in urban development.
你有試過360度漫遊香港的城中村?
超過二十名培基學生及老師於2021年5月14日參加網上小小學習無疆界二之茶果嶺礦山痕跡。各人在香港中文大學的學生導賞員帶領下,透過虛擬實體眼鏡參觀茶果嶺不同的景點,包括榮華士多、天后廟及茂發茶室。學生從中了解到當地居民的日常生活,體會小村的純樸民風及濃厚人情味。
學生透過導賞團了解茶果嶺的興衰,窺探香港礦業的起跌,同時反思城市發展的平衡路徑。

Pooikeinians were learning the history of Cha Kwo Ling.
培基人學習茶果嶺的歷史變遷。

Students were taking the poll to guess the previous use of Wing Wah Store.
學生進行投票,猜想榮華士多的前身。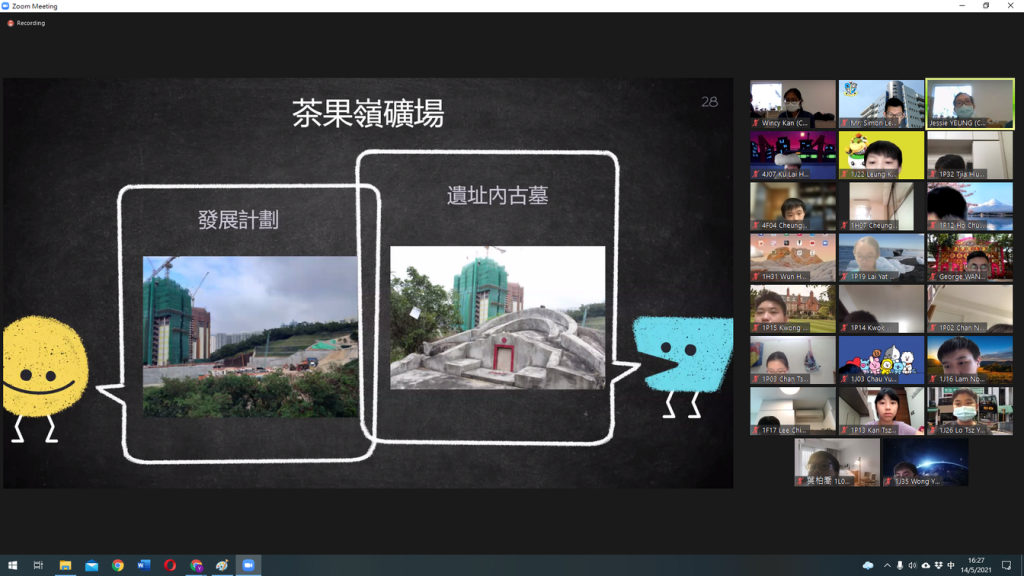 The CUHK student tour guide was explaining the dilemma in developing Cha Kwo Ling.
中大學生領隊解釋茶果嶺發展的兩難之處。
A student was viewing VR videos using the paper glasses.
學生正觀賞虛擬實體影片,像真猶如置身其中。
The group photo after the online tour
完成網上導賞團的大合照
Back